Want to earn money for bringing new members to GamerDating?
We are gamers and we made this site to bring gamers together. We don't just want to make a living at it, we want to support fellow gamers in reaching their dreams, too. Through our Affiliate and Creator partnerships, you can play cupid, earn some money and help your fans find someone to love them in game and out.
How does the GamerDating Affiliate program work?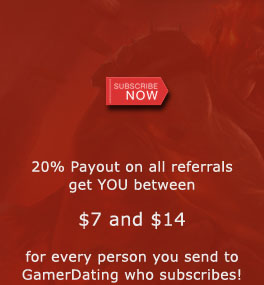 Affiliates direct users to GamerDating through banners or text links on their websites, blog, and social media pages. When someone clicks an Affiliate's ad, they are forever tagged as coming from that site. After they purchase a subscription, we give the Affiliate at least a 20% share (depending on audience demographics).
We provide you with easy-to-use tools to set up, manage and monitor your links.
You will receive payment on a regular monthly schedule.
You'll earn 20% for each new customer who signs up for any subscription.
How does the GamerDating Creators program work?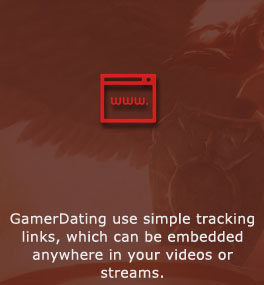 A lot like the Affiliate partnerships. As a Creator Affiliate, you'll direct gamers to GamerDating through banner ads or text links on your videos, stream, site, game or other original content and we promote you through GamerDating and associated social media. When we promote you, it will be with your tracked link, bringing you more views and more money. When that member pays for a subscription you will receive at least a 20% payout (again, depending on audience demographics).
We provide you with easy-to-use tools to set up, manage and monitor your links.
You will receive payment on a regular monthly schedule.
You'll earn money for each new gamer who signs up for a subscription.
You'll be promoted and featured in front of our always growing membership base.
How do I become a GamerDating Affiliate or Creator?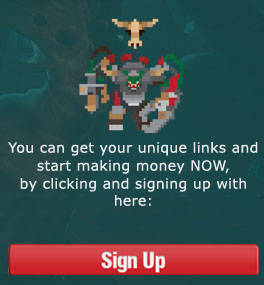 We invite anyone with a website or original content to apply to become an affiliate. It's easy, and we have no minimum traffic requirements. We only need to assure that your content fits our community standards (basically, don't be a troll). All it takes is two simple steps:
Agree to our Affiliate Network Agreement *

Once your application is accepted, you will be directed to a menu of tools, including the GamerDating logo, creative and code needed to set up your links. You will also be able to produce reports and track your program results.
* Please note that email marketing, search marketing and incentives can be used only with permission from GamerDating. We have a zero tolerance policy towards adware and spyware.
Frequently Asked Questions:
Q: Who can participate and how much does it cost?
A: Almost anyone can participate. Affiliates will be rejected if they promote: sexually explicit material, violence, illegal activities or discrimination based on sex, race, religion, nationality, disability, sexual orientation or age. All affiliates are subject to our approval. There is NO CHARGE required to become an affiliate.
Q: I don't have a website or content yet. Can I still apply to the affiliate program?
A: Your website must be operational and not under construction in order for us to consider your application.
Q: Do I get paid for each month that a member I referred continues to be a subscriber?
A: No. Affiliates are paid a one-time fee for each person they refer who signs up or subscribes to our service and has never had a GamerDating account.
Q: Can I stream samples of video from your library of titles on my site?
A: Due to copyright laws, no titles in our library are available to be shown (either in part or in entirety) on any of our affiliates' sites.
Q: Where do I get the links to put on my site? Can I make my own links?
A: We provide you with all the links and images to be used on your site. We do not authorize the creation and use of your own links and images to promote our service. If you have special needs, we can discuss alternatives with you.
Q: Can I use email or newsletters to promote GamerDating?
A: Yes, but first it must be approved in writing in advance by GamerDating.
Q: How do I keep track of how many referrals I have made?
A: Our Publisher Portal, is responsible for tracking and reporting all activity from your site to ours. Each GamerDating link on your site has a special tracking code (pixel or S2S) that records when a customer has clicked through to our site and has signed up for our service and has paid. PP makes this transaction information readily available in your PP account.
Q: Whom do I contact if I need assistance with my affiliate account?
A: For questions about the GamerDating affiliate program, please support@gamerdating.com
Q: Can I bid on keywords for search advertising purposes?
A: No, you may not bid on keywords, unless you have written permission from GamerDating in advance. In addition, bidding on the GamerDating trademark or any misspellings of our trademark is strictly prohibited at all times.
For additional information or inquiries, contact us here or anyone you know at GamerDating.
Please note: The GamerDating Service and our Affiliate program are available only in the United States, United Kingdom, Canada, Australia and the European Union. GamerDating is licensed under United Kingdom Trademark No. 5,717,860